Where is God?
Where is God?

Wondering about our World? Looking for real hope?

Dear Friends, are you awake to the desperate changes happening in our world? Yet there is real hope for your life. When you choose to open your mind and heart to God, you will discover He is real, He does have a future and a plan for you. Open your ears and eyes! Listen to what God says: "Call to Me and I will answer you, and show you great and mighty things, which you do not know." Jeremiah 33:3

Will you call to God?

---

What is the Bible?

This book called the Bible contains the Golden Chain of Truth for our world, your life, our times.

The Word is supernatural, alive and healing for all who choose to venture within the Bible...

Read more>>

---

How is your Health?

Time to get STRENGTH for what is ahead!

The time to prepare is now! Dear brother and sister of the human race, if you have a belief and faith in God the Father and Jesus Christ, God's only begotten Son you are on the way to being prepared. The time to become strong in mind, body and spirit is NOW!

Never before has the human race had to adapt to so much poison in our air, sea, water supplies, food supplies and soil. Do we ignore these threats and hope they will go away? Do we turn our minds and our hearts desires to entertainment, fun, shopping, movie stars? Or do we stand up and say, "My body is worthy to be looked after, and I am going to learn!"?

How do you feel today? Millions of people just like you and I are struggling through each day, worrying about getting through tomorrow.

How do you find what is right for you? Perhaps there are new things you can learn?

You are unique - your finger print is unique and so is your biochemistry in your body. To find your unique healthy living lan takes fervent prayer and willingness to make changes. Don'ty delay, you need STRENGTH now!

There are simple things we can learn to take care of ourselves.

We might call this: DIY Healthy Living!

Get STRENGTH!
Our Heavenly Father, use this website. Open up the computers in every country and language in the world and multiply your word out to others. Spread it through emails and attachments. You have said, "The things that are impossible with man are possible with You".
You have also said, "Call to Me and I will answer you and show you great and mighty (inaccessible) things, which you do not know." There has not failed one word of all Your good promise. All have come to pass. It is not Your will that any should perish but that all should come to repentance. You desire all men to be saved and to come to the knowledge of the truth.
You say, "Behold, I am Yahweh, the God of ALL flesh. Is there anything too hard for Me?" You Have promised to pour out Your Spirit on ALL flesh. You are not a man that You should lie; nor the son of man that You should repent. Have You said and will not do it? Have You spoken and will not make it good? Be it unto us according to Your word.
God of Hosts send out Your angels to every person on this planet. Thank You that they excel in strength and do Your word, heeding the voice of these written words of Yours. Push back the power of the fallen angels.
Thank You that we know You are doing this because You have said, "This is the confidence we have in You that if we ask ANYTHING ACCORDING TO YOUR WILL, You hear. And if You hear us, we know that we have the petitions that we desire of You."
We ask these things please in Jesus' name. He is our Righteousness. He is our Sanctification. He is our Healer. He is our Victory. He is our Provider. He is our Shepherd. He is our Wisdom. He is our Peace.
AMEN
 Looking for last week's Blog? We have copied each week's entry to: 
We invite you to relax, read and learn!
Are you ready for a journey like no other?
Join This Man (for we do not know his name) to learn the truth about The King and His Son. Who is this King? And did he really beget a Son?
You may laugh, you may leak a tear or two (others have), but you will never be the same. May the truth set you free!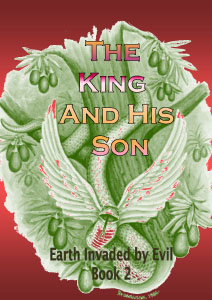 Book 2  FREE DOWNLOADS 2



NEW PUBLICATION
Nearly Ready!
"Linking Truth"
This is a book to have by your side, for chapter by chapter will link Bible text to Bible text - showing God's beautiful truth.
Remember: God's Word, the Bible, is inspired, infused with Divine power. This means human words are taken by God, infused with supernatural power. Simply reading Bible words will infuse your life with Divine power too. 
This infusion can be quick or can take a while. Endurance may be required.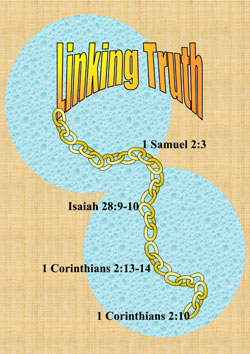 Excerpt from Page 11:
"...Surely the Divine
relationship between God the Father and His only begotten Son is the grand event
of eternity, the pulsating heartbeat of the everlasting gospel..."
A Story of one Lost Sheep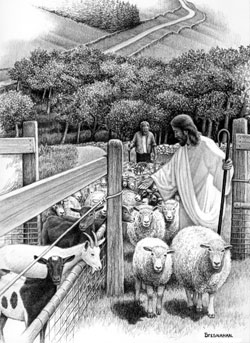 We chose to use the New King James Version Bible (NKJV) published by

Thomas Nelson Inc,

unless otherwise stated.

In some cases we have used Nelson's Electronic Reference Library NKJV and King James Version (KJV). Views expressed in this website may not be the views of Thomas Nelson Inc, or any of their employees.

Many thanks to

Website Builders NZ for their ongoing advice and patience, and

to Impact Graphics (PO Box 1301, Goldbar, WA 98251 USA) for their royalty-free artwork. Thank you to Paul Kjoss for graphic design and advice (formerly of

Aotearoa Christian Print, Wangani, NZ).

And thanks to award winning New Zealand artist

, Ben Timmins,

for his artwork contribution. Over the years many friends and family have encouraged us and to them we say "thank you." But most of all we give humble thanks to God the Father and His Only Begotten Son.
© Copyright 2012 Vital Force NZ - New Zealand