Hello friends, wherever you are in the world today
This has been an unusual summer growing season. Are we really surprised? We are living in the end days of the world, as we have been since 1798. Jesus himself said unusual events would be occurring:
"...you will hear of wars and rumors of wars. See that you are not troubled; for all these things must come to pass, but the end is not yet. For nation will rise against nation, and kingdom against kingdom. And there will be famines, pestilences, and earthquakes in various places. All these are the beginning of sorrows."
Have you heard of wars and rumours of wars?
Have you heard of people protesting, and wars between countries?
Have you heard of famines? Terrible infectious diseases? Earthquakes in many places?
Yes of course you have! All this we see, hear and read about in today's age of information. And how sorrowful we are for all the innocent men, women and children who are caught up in events out of their control. Events that were foretold in the Bible. Foretelling of events is called "Prophecy".
And all these world changes filter down into the daily lives of you and I, and all the billions of people alive in the world today.
Whatever the cause/s, this is what we have experienced this summer growing season:
Half the annual rainfall of each of the previous two years: the soil layers are drier, water availability has been intermittent.
Scanty rainfall over the summer growing season.
Smoke drift all the way from the Australian bush fires.
Heavy sky spraying (weather modification called geoengineering).
Freeze Fry weather extremes: Several hot days then sudden drops of about 10 degrees celsius (50 degrees F).
Freak high winds.
Hungry and thirsty birds.
What actions did we take to adapt to this summer growing season?
Simple wire hoops over the width of garden beds, spaced at approximately 1 metre intervals. We draped garden cloth, old thin curtains, insect covers (anything suitable we had to hand) over the wire hoops which covered the garden beds. We covered the beds on heavy grey days as particulate matter was falling on the plants and causing burn damage, on high wind days and on very hot days.
Whenever water was available we watered carefully, early in the morning.
Bought in some local government certified organic compost and used that as mulch on some of the growing beds.
Extra support feeding - seaweed liquid formulas are great for tonics and stress, whereas fertilisers are for feeding when the plant is strong. Environmental Fertilisers Vegetative Foliar is great for this. But we were gifted some Maxicrop (new seaweed product - sourced from Norway) which we use as well.
Put out a large container of water, high up, for the birds in case they were thirsty.
And for the tomatoes, which leaned against shorter than we would have liked, chicken wire "fences",we had to cover completely to attempt to prevent bird damage.
Next step was to: Harvest the tomatoes when they were just starting to blush with colour - if we wanted unpecked tomatoes. Have a look at the image at the top - now you can see slightly ripened tomatoes, harvested to prevent bird pecking!
See the image below: That's the outcome of a hungry and thirsty bird!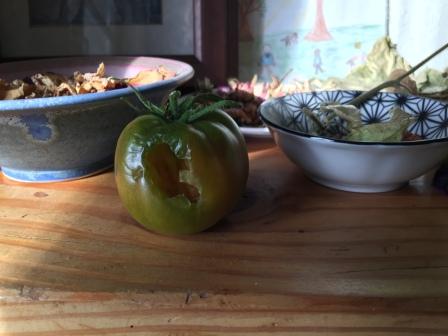 Tomato Varieties 2020, there were many, below are a selection:
Moonglow - the best production we have had with this variety outdoors. We have not found this the easiest tomato to grow in previous years but we pursue because of the health benefits. Golden orange tomato, which contains the correct horseshoe shaped lycopene for easy absorption by the human body. Far greater absorption than red tomatoes. Seeds originally from Heritage Food Crops Research Trust. (Mark Christensen)
Olga's Round Golden Chicken Egg - (as above) but tested approximately one third higher in lycopene. Seed source as above. The fruit was smaller than in previous years. I love the flavour of this one, umm, fruity, tangy.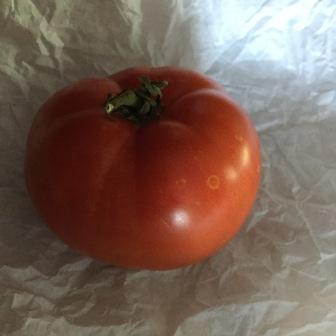 Marmande - this is a red, medium large old French market variety. which we have grown for several years in four gardens. Vigorous, disease resistant (but some sunburn this year), earlyish to ripen. Seed from two seed houses this year to compare. One variety was from seed saved by Epicurian Supplies. The other from Kings Seeds.
Oregon Spring - this is a variety grown to fruit in cold air temperatures. We grew this as early indications were for a colder summer, we placed it in a shaded and cooler part of the tomato bed. Nicely shaped round tomatoes, not quite ripe yet.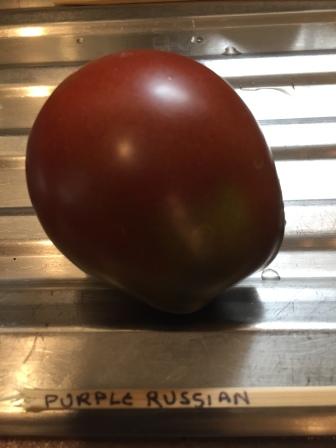 Purple Russian - one of the top performers this season. Sweet fruit, larger sized fruit and more than expected. Seeds from Epicurean Supplies
Peter's Norton Road Red: This is a red, round, medium to medium large tomato with excellent flavour and the plant grew strongly. Two of four plants died suddenly while laden with fruit. Possibly from the freeze fry. I pulled up the plants and the fruit ripened in a shaded area. I called this tomato after Peter Alexander, New Zealand organic hero to me. He made organically grown food available to all people at reasonable prices through New Zealand's Chantal Organics. He sold this global business a few years ago and now has another business - this time growing beautiful organic fruit and vegetables, an organic apple juice business and a shop on Norton Road, Hastings where the produce is at amazing prices. I saved a seed from a box of tomatoes from Norton Road last year.
Roma - seed saved from two years ago, and what a fabulous harvest from four plants. They all tend to ripen within a few weeks of each other. Grows well as a "field" tomato, does not require any support unless you want to. Treat as a determinate bush and do not take laterals off. (Secret: I do not take laterals off any tomatoes).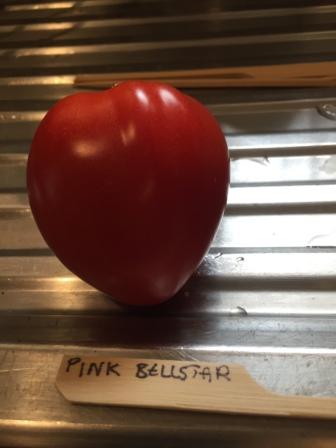 Pink Bellstar - this is the third season we have grown this tomato. Similar to Roma, this variety is firm, almost heart shaped and the fruit generally ripens all at once. The flavour is not outstanding, but the fruit cooks to a nice flavour and texture for bottling (canning).
Henry's Bush Cherry - a remarkably compact bush with very firm leaves. We grew three in large pots. They were the second variety, after Golden Nugget to ripen. They kept on ripening until this week. Now they are finished. Seed from Setha's Seed.
Golden Nugget - the very first fruit to ripen. Yellow coloured, tangy, thousands of cherry sized fruit. Seed from Epicurean Supplies.
Hssiao His Hung Shih - originally collected from a Chinese market in 1931! Golden yellow, slightly larger than cherry. Prolific, low acid flavour, easy to grow, easy to pick. Seed from Epicurian Supplies.
Jaune Flamme - a golf ball sized orange tomato, sweet and fruity. Delicious. Many of these ripen over a long period. Seed from Epicurean Supplies.
HOW WE SOW AND GROW TOMATO SEEDS:
This year, about 150 tomato seedlings were raised from seed.
We raised seeds for family and friends who were out of New Zealand at the critical seed raising time (July/August), so we had lots of variety this year, as there were a few left over from each of their varieities. We were able to gift some to a neighbour who passed them on to fellow volunteers at a beaut little op shop.
Another neighbour latterly gifted me some of his varieties, which went in later. We are yet to see the results of these later plants.
Starting at the usual time, about August (winter here in New Zealand). The seeds are sown in rows in organic seed raising mix in little seed trays, each row labelled and then put in a DIY heat pad set up. The little seed trays with holes in the bottom, are placed into a larger tray, similar to a cat litter tray. As soon as the baby seedlings are looking strong with about 2-4 sets of real leaves, the seedlings are potted up into their own pot with organic potting mix (often a mix of leftover mix from last year, fine compost, and new potting mix).
The potted up seedlings are returned to the larger tray on the DIY heat pad set up, and carefully observed, watered when the soil feels dry to the touch, fed about every 10 days with weak seaweed tea to encourage strong root growth. DO NOT OVERWATER TOMATOES!
When most danger of frost has passed, the tomatoes are planted out, about 50 cm between each plant, alternating either side of a "fence" as tomatoes love to lean. As the plants grow, we tie the main stem to this "fence" but do not pick the laterals or shoots off, as for us, the laterals grow a lot of fruit. The branch the lateral grows out of, begins to wither and die as the fruit on the lateral branch swells and grows. So we nip off these branches, I guess they sacrifice themselves so the fruit can grow and survive.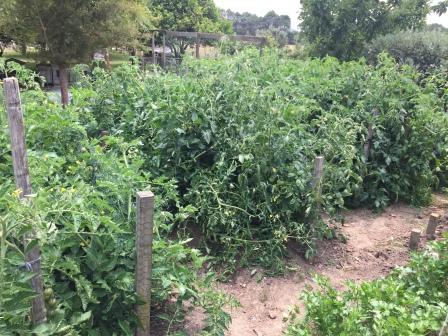 Till next time! We are now starting to prepare the garden beds for autumn and winter. No matter what is going on in the world, we still need to eat good vegetables, especially as more and more foods will become unavailable - especially with the Coronavirus restricting global food movement.