Vegan Almond Mayo
This recipe is quite amazing, and is a change from our regular cashew dressing. One batch of this delicious mayo, stored in a glass jar (healthier for the human anatomy than plastic containers) lasts 4-5 days of salads for three people. When our youngest son is home though, hungry organic orchard apprentice that he is, the jar seems to mysteriously disappear!
Vegan Almond Mayo Recipe Author
This amazing recipe comes from a wonderful woman named Elana, who has been inventing recipes for people with autoimmune disorders since 2006! Elana's Egg-Free Mayonnaise recipe contains almonds known as Marcona. We have never heard of Marcona Almonds here in New Zealand. But they sound delicious. Anyway, we use sliced skinless almonds, and were not disappointed one little bit. We made a couple of other adjustments to suit our circumstances.
Extra Virgin Olive Oil in Mayo
Take a look at the ingredients below ↓ keep scrolling till you find the recipe! Did you gasp at the quantity of olive oil? I did.
Then I put some thought into the recipe:
Consider this single batch of mayo serves at least 12 for salad, potatoes or wraps - that's just over 1 1/2 teaspoons of olive oil per serve, based on 1/2 cup of olive oil being 7-7 1/2 Tablespoons of olive oil. (That's a standard Tablespoon - as opposed to the Australian Tablespoon which is larger.)
Extra Virgin Olive Oil (EVOO) is a much healthier free fat than any single jar or bottle of supermarket mayo containing hexane (that's an industrial chemical) processed canola oil (true name rapeseed oil), sunflower oil, genetically modified (GMO) soy oil or the deceptive sounding "vegetable" oil. Sounds healthy, right? It's not.
There are no hidden additives or preservatives and certainly NO GMO ingredients - and you would never know if that jar of supermarket mayo contains GMO as there is no labelling to say "This MAYO contains GMO ingredients". Have you ever seen one?
This mayo has FIBRE from the almonds.
And this mayo really is delicious and scrumptious as the recipe author tells us!
We enjoy extra virgin olive oil and have found our health has improved - our skin seems healthier and digestion improved since adding good quality olive oil and coconut oil to our meals. Mind you, at the same time we started eating olive and coconut oil regularly, we also stopped eating most grains and started eating buckwheat instead.
Blending the Mayo
You will need a blender to make this mayo creamy and velvety smooth. If you don't have a blender, you can soak your almonds overnight and try that. I think soaking the almonds might work with a Nutribullet or even a food processor. We have an ancient, elderly Vitamix that is about 22 years old. We use a small Vitamix jug that can sometimes be bought, and it makes quick work of blending the Vegan Almond Mayo.
As the mayo sits in the fridge, the consistency thickens. So you can add a little water and whip with a fork day by day just before you serve. The image you see, is of Mayo whisked with a little water to thin. Of course, if you LOVE your mayo thick, then enjoy! You will just have to make another batch sooner rather than later.
Mayo with Lemon Juice or Apple Cider Vinegar?
Most of us eating plant based diets like to go straight to lemon juice for the amazingness that raw food contains - great for detoxing glysphosate too. However, in our case, I cannot digest even the tiniest bit of lemon juice without uncomfortable symptoms. This started several years ago. We all seem to digest organic apple cider vinegar very well, so that's what we use. To get that lemon flavour, we use the rind and white pith of the lemon! Strangely, I can digest the rind and white pith beautifully. Elana's original recipe uses Apple Cider Vinegar.
We use the lemon juice for other members of the family for lemon drinks with water.
Here's the recipe.
Vegan Almond Mayo
Ingredients
1/4 cup citrus juice such as lemon or lime OR 1/4 cup best quality apple cider vinegar
½ tsp salt
1 Tablespoon of liquid sweetener, such as maple syrup, coconut nectar OR 2 teaspoons honey
1/2 cup extra virgin olive oil
1/2 cup of sliced skinless almonds (Elana's original recipe calls for Marcona almonds – unknown in NZ)
About ¼ cup water (extra)
Method
Put the citrus juice or apple cider vinegar, salt, and liquid sweetener into your blender jug.
Blend for about 20 seconds.
Through the lid, while the blender is on low to medium speed, in a slow stream, pour in the olive oil. Don't panic if the mixture looks like separating, the almonds will fix that - as Elana so wisely advises us.
Now add the almonds, (soaked if you are using a hand blender or food processor) and blend on high speed, until the mayo is thick, velvety and luscious. Sometimes, we need to add more water, about 1/4 cup, as the mayo thickens very quickly. If you need to, add the water now and blend again until all is mixed and luscious looking.
Calmy and patiently scrape your Vegan Almond Mayo out of your blender jug, trying to suppress your giggle of delight! Store in a jar in the fridge, hiding the jar behind less interesting foods if you must!
Variations:
Dill Mint Mayo - at the final blend add in some sprigs of fine feathery Dill, and a sprig of fresh Mint.
Lemon Garlic Aioli-like Mayo - at the first blend add in 2-3 Tablespoons of lemon rind and a clove of garlic.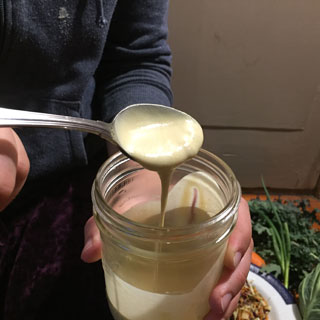 Thanks for reading, and may God be with you as you progress through your day today. Tomorrow is Preparation Day for the biblical seventh day Sabbath (Saturday) here in New Zealand. This means we tidy our home and prepare food, so even the family cook has a rest on Sabbath. And then we spend a delightful 24 hours away from the concerns of the world, and spend time in the spiritual realm - reading and learning, and enjoying nature. In this way we become closer to our Saviour, Jesus Christ! God bless you!
Reference: https://elanaspantry.com/marcona-almond-mayonnaise/