ANZAC Crunchy Biscuit Recipe (Plant Based, Grain Free, Sugar Cane Free)
Here in New Zealand, a biscuit is a crunchy-all-the-way-through sweet treat. Biscuit recipes are prepared with a variety of techniques, to produce that crunchy, or short texture beloved by folks around the country.
In fact the "cookie" texture (soft in the middle, crisp on the edges) may be viewed in New Zealand as a failure to cook the "biscuit" correctly or thoroughly! I once failed a baking test because my biscuits were soft in the middle and crispy on the edges!
Origins of the ANZAC Biscuit
And now let's visit the mists of time: ANZAC biscuits were apparently sent to Australian and New Zealand soldiers serving in Gallipoli, Turkey in World War I. This is a LEGEND, according to the National Army Museum of New Zealand.
"Contrary to popular belief there were no Anzac biscuits at Gallipoli. The standard Army biscuit at this time was a rock-hard tooth breaker also called a ship's biscuit..."
The rolled oats based ANZAC biscuit did however make a huge contributon to the war effort:
"The majority of rolled oats biscuits were in fact sold and consumed at fetes, galas, parades and other public events at home, to raise funds for the war effort. This connection to the troops serving overseas led to them being referred to as "soldier's biscuits". Fundraising was coordinated by local Patriotic Funds, raising 6.5 million pounds for the New Zealand war effort."1
Grain Intolerances - Many Reasons
There seem to be a gowing number of people who find grain intolerances never completely resolve, inspite of healing their digestive systems for many years.
Let alone growing evidence that modern wheat is damaging to every person alive.
Maybe the problem is with the modern wheat genetics, or the rancidity of the oils in the wheat from flour sitting around before being sold, or the pesticides and herbicides applied to confentionally grown crops, and the soil the crops are grown in. Or perhaps the poisons in the rain and irrigation water (glyphosate is one) and air (geoengineering) have a part to play in problems some people seem to experience with wheat. Then there's the option of having personal genetics that make intolerance more likely.
I've also read that the chemicals people are exposed to in tap water, swimming pools and sea water can make them more susceptible to intolerances, and the very real possibility of permanently damaged digestive systems from even one round of antibiotics as a child.
For many people oats are one of those indigestible grains, and in fact cause painful widespread symptoms because:
the oats are often "contaminated" with wheat by being grown, harvested and processed close together or,

seeds (probably the proteins) of any and all grass crops are not digested and kick off a range of symptoms in the body, resembling autoimmune conditions.
So for those of us who really enjoy a crunchy, grain free, refined sugar cane free biscuit, in the New Zealand ANZAC tradition, here is a recipe we hope you LOVE! We do.
You will need scales, a measuring jug, and some kind of equipment for chopping/grinding seeds. A food processor is perfect, a coffee grinder is perfect too (just a bit fiddly).
ANZAC Crunchy Biscuits
(Plant Based, Grain Free, Cane Sugar Free)
These are deliciously rich, so very easy to eat more than one, until all that goodness sits in your tummy and you realise that one is sufficient! This can take some time to learn and practice.
Makes approximately 20-25
100g sunflower seeds
100g pumpkin seeds (pepitas)
50g shredded coconut (the kind that looks like white pieces of string)
1/4 tsp baking soda (leave out if you need to)
1/4 tsp salt
50g desiccated coconut (tiny, fine pieces of coconut)
2 Tablespoons tapioca starch
3 Tablespoons olive oil
100 ml brown rice syrup*
2 tsp vanilla extract
Preheat oven to 160 degrees celsius (320 degrees fahrenheit) and line a flat baking tray with baking paper (parchment).
Put sunflower seeds, pumpkin seeds, shredded coconut, baking soda and salt in food processor.
Process until coarsely chopped. Stop the processor and spoon out 4 TB into a medium sized bowl.
Process remainder until finely ground.
In bowl with coarsely ground mixture, add desiccated coconut and tapioca flour.
Mix with a spoon and then add in finely ground seed mix.
In a small bowl, whisk olive oil, rice syrup and vanilla together.
Now mix wet ingredients into dry ingredients.
Make sure your hands are clean.
Fill a jug with some water to moisten hands, take walnut sized balls of mixture and roll into balls.
Place balls one by one onto prepared baking tray, spacing about 5 centimetres (2 inches) apart.
Wash your hands again and dip one hand into the jug of water.
Slightly flatten balls with the moist palm of your hand.
Bake biscuits in the pre heated oven for 15-20 minutes until they begin to go golden brown on the edges.
Your oven will be different to ours, so don't set the timer and walk away the first time you make this recipe!
Be a diligent cook and clean up your cooking dishes while the ANZAC Crunchy Biscuits are baking in the oven.
Once browned to your liking, take the tray out of the oven, rest on a wire rack.
Repeat the rolling, flattening and baking with another baking tray.
Cool completely before eating and store in an airtight container.
* Here I am talking about avoiding grains, and then using Rice Syrup in a recipe. Here's why: Rice Syrup is processed in a way that there is no rice protein left, or only a tiny trace. Additionally, I am one of those people who can tolerate only a tiny amount of fructose, and Rice Syrup happens to be fructose free, to my best knowledge. Please do feel free to experiment with other sweeteners. Maple Syrup or Coconut Nectar may also work. Give honey a try. How I adore the fragrance of honey, but sadly, honey is poison to my system if consumed.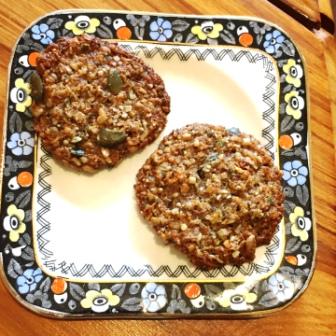 References:
1. National Army Museum, Te Mata Toa. (n.d.). Origins of the ANZAC biscuit. Retrieved from https://www.armymuseum.co.nz/the-anzac-biscuit/